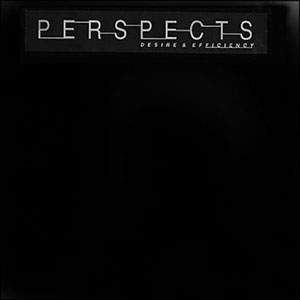 PERSPECTS
desire & efficiency 12" EP
A1: AGGRESSIVE TRADING
A2: DESIRE & EFFICIENCY
B1: DRY INPUT
B2: TENDER TAMING (CRUEL SHOES)
B3: WHERE ARE WE
Music & lyrics by Ian Cinch-Jones, Poly-Dolly, and Mike DeVice.
©1999 ERSATZ AUDIO.

RELEASE DATE: DEC. 1999 (EZ-010)
PERSPECTS invites you to listen to the effects of maximum convenience on the present-day human mind. What we feel in lieu of our modern, supplanted emotions in the domain of Desire & Efficiency. These grey areas make it a music of contradictions: sterile & emotional, sincere & sarcastic, dead serious & tongue-in-check. "Love" songs about the things we substitute for our love reflexes. This 12" is out of print.
"Detroit based electro terrorists Ersatz Audio presents Perspects; a trio whose music aims for the "maximum convenience on the present-day human mind". Kicking high-energy ass, rapid fire synths and stripped electro beats hypnotize while they excite, stringing the listener into a world of senseless contradictions. Sterile versus emotional? Sincere versus Sarcastic? Retro versus Futuristic? Fashion versus function? The message is blurred (with a healthy dose of vocodered gibberish) but the style is sharp. Excellent." -EXP 'zine
"With tracks already released on Ersatz Audio and Sabotage and a remix of Ectomorph forthcoming on Plug Research, Le CAR cofounder Ian R. Clark's newest project Perspects finally sees its first full release. In his quest for the perfect synth pop tune, Ian combines new wave, electro and IDM influences to conjure such gems as "Aggressive Trading" and "Cruel Shoes." (4 1/2 out of 5)." -Mixer
"(9 out of 10)" -Prospective Magazine
"Highly recommended!!!!!!!" -EARMAG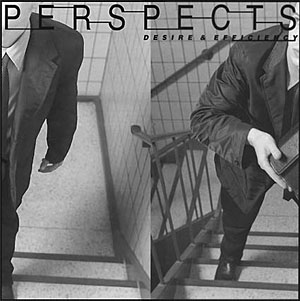 PERSPECTS Insert