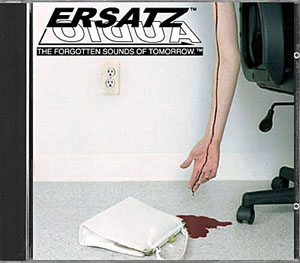 VARIOUS ARTISTS
The Forgotten Sounds of Tomorrow.™ CD

01: ADULT. SILENT PROPERTY
02: Le CAR AUTOMATONIC: AF17
03: PERSPECTS DESIRE & EFFICIENCY
04: BOLZ BOLZ 32nd LESSON
05: ARTIFICIAL MATERIAL MODERN LOGISTICS
06: Le CAR AUDIOFILENINE
07: FASTGRAPH PULL THE PLUG
08: PLATEX LATEX
09: ADULT. HUMAN WRECK
10: G.D. LUXXE RED
11: Le CAR ERASE THAT THOUGHT
12: ARTIFICIAL MATERIAL LOGICO-MATHEMATICAL PT3
13: THIRD ELECTRIC BLINDSTROM
14: LESSENINGLESSON QUINQUOID
15: KITBUILDERS EVERYTHING IS
16: FIRST MODE SATURDAY AFTERNOON
©2000 ERSATZ AUDIO.
RELEASE DATE: FEB. 19, 2000 (EZCD-11)
To commemorate their five year anniversary as one of Detroit's most unique and enigmatic electronic labels, Ersatz Audio is making available a CD compilation "The Forgotten Sounds of Tomorrow.™" featuring a comprehensive selection of works from previous releases. This spectacular collection of music culminates a true commitment to the burgeoning electronic music genre. However, what distinguishes the Ersatz Audio label from all others, is its stripped down sound. With a sublimated sense of humor, they continue to explore the often overlooked electronic synth pop of the 80's. Their austere interpretations with purposeful irony demand careful listening.
"The Forgotten Sounds of Tomorrow.™" is also an homage to the visual artist who have helped shape EA's distinctive visual style. A look which has been featured in the internationally recognized guide to cutting edge graphic design DiscStyle (published by Edition Olms AG). Adam Lee Miller along with Rita Sayegh (of Constructure Design, Detroit) established the initial branding which the Ersatz Audio label has become known for. The CD booklet also features the visual art of Nicola Kuperus, Riva Sayegh, Philip Burke, Adam Lee Miller and Matthew Gollnick. On February 19, 2000, Ersatz Audio hosted a one night exhibition-event "The Forgotten Sights & Sounds of Tomorrow™", an exhibition of Art, Design, Music and Commerce, at the detroit contemporary. With live performance by ADULT. & PERSPECTS. This event also showcased artwork from those included in the CD booklet. Check out pictures from this event by clicking on the camera below.
"Detroit's Ersatz Audio label is one of the vanguards of post-electro music, which seems to be getting even more popular. Taking its inspiration from the early-80s synthpop era and adjusting it to the harsh realities of the ironic late-90s, this music is more than just another pointless exercise in cherry retro pastiche pop." -Prospective Magazine
"Detroit's most excellent Ersatz Audio label has been at the forefront of the contemporary electro movement since its inception in 1995 and this comp collects some of the label's finest pastiches of 80s synth pop." -The Wire
"Very recommend, simply one the best electro compilations around!" -Forcefield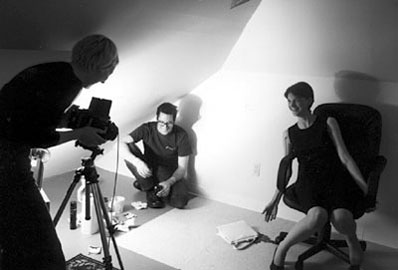 BEHIND THE SCENES shooting the cover of EZCD-11.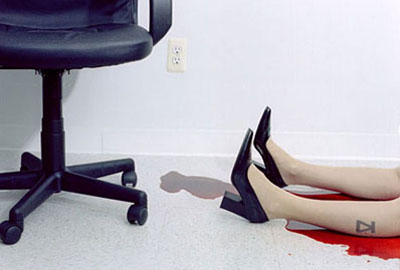 UNUSED PHOTO for the cover of EZCD-11. photo: N.Kuperus