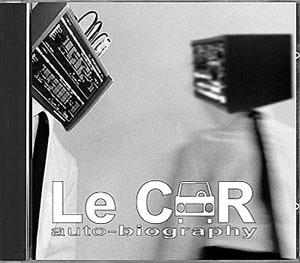 Le CAR
auto-biography CD

01: PERSONAL AUTO ATTENDANT
02: ALUMINUM RECTANGLES
03: AUDIOFILE SEVEN
04: TENPOINTFIVE
05: MOTORWAY SPARKS
06: FLAME JOB
07: WARM HUMANS
08: EIGHTPOINTFIVE
09: CINEMATIC-AUTOMATIC
10: 20/20
11: AUDIOFILE FIVE
12: MALICE
13: THIRTEENPOINTFIVE
14: THE CONCEPT CAR
15: FONY
16: BEAU IDEAL
17: SEVENTEENPOINTFIVE
18: AUDIOFILE 10
19: S'PRANG
20: NINETEENPOINTFIVE
21: FINAL AUTO ATTENDANT
22: MOTORWAY SPARKS G.D.LUXXE REMIX
23: AUDIOFILE SIX
Music & lyrics by Adam Equation & Ian Cinch-Jones.
©1996, 1997, 1999, 2000 ERSATZ AUDIO.
©1997 Le CAR, CRAFT RECORDS.

RELEASE DATE: SEPT. 18, 2000 (EZCD-13)
After 4 renowned 12" releases, plus their current remix 12", ERSATZ AUDIO is proud to release the anthology of the ground breaking career of Le CAR. Featuring a collection of tracks from all their releases, including music from the long out-of-print "automatic" mini LP on CRAFT RECORDS, a division of SABOTAGE COMMUNICATIONS, this is a must have for autophiles everywhere. This CD includes many exclusive tracks and edits never before released. 2 bonus tracks, including a remix by G.D.Luxxe, conclude this CD...
Le CAR is credited as one of the first bands to fuse true underground Detroit Electro with European Synthpop of the 80's. Their releases were seen to chart countless DJ top tens and dance magazines monthly highlights, including DJ, FRONTPAGE, MUZIK,...
Le CAR member Adam Equation is now a member of ADULT. Le CAR member Ian Cinch-Jones is now a member of Perspects.
"Le CAR takes you once again to the finest corners of their own defined genre. Quality from the highest tops." -Forcefield
"...so much funk that it almost becomes unbearable,... It is also, of course, absolutely hilarious, as if that needed to be said. HIT!"
-Jockey Slut
"Amazing artwork, great electronic and danceable experiments for a brilliant this-time-I-think-you-are-driving-too-fast ethylene electroplate." -Earmag
*Please note: There was a track listing error on the back of the initial pressing of the Le CAR CD. The track list above and the grid list on the inside of the booklet are both correct.