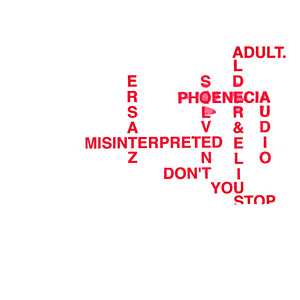 ADULT.
misinterpreted (remixes) 12" EP

A1: ADULT.
"Don't You Stop: original mix"
Music & lyrics by Kuperus / Miller.
A2: SOLVENT vs. ADULT.
"Don't You Stop: toy chop mix"
Rewritten & misinterpreted by Solvent.
Additional mix & production by Lowfish.
Solvent appears c/o suctionrecords.com.
B1: PHOENECIA vs. SOLVENT
"Don't You Stop: trickmommy transplant"
Phoenecia appear c/o common courtesy via schematic.net.
B2: ALDER & ELIUS vs. PHOENECIA
"Don't You Stop: get outta dodge mix"
Written & produced by justin & jesika.
Alder & Elius appear c/o alderandelius.com
©2002 ERSATZ AUDIO.

RELEASE DATE: FEB. 19, 2002 (EZ-016)
A new 12" that comes with a concept based on a popular children's game that has many different names depending on your region. "The Telephone Game", " The Telephone Operator", "Chinese Whispers", it doesn't matter what name you had for the game as a kid, the concept is the same. A group of children sit in a circle. A child whispers a sentence to the individual sitting next to them, and this sentence is repeatedly whispered around the circle until the last child hears the sentence. At which time, the last and first children say their sentence out loud, and inevitably, the sentence has changed dramatically from the original.

ADULT. has adapted this idea for this release. A new ADULT. track entitled "Don't You Stop" has been remixed by Solvent (Suction Records). Solvent's remix was then given to Phoenecia (Schematic Record Co.) for them to remix, without letting Phoenecia hear the original ADULT. song. Alder & Elius (Skam) finish off the release with the same rules intact. The end product is a cohesive 12" with what really sounds like 4 unique songs with a common thread. Re: interpreting the Re: mix process. Packaged in hand screened jackets, with either black, grey, blue, red, or green ink.
"The hype can start whenever. There's no hurry. Adult. already rule. Period." -NME
"A much loved anomaly in the faced-paced world of Detroit electronic music..." -The New York Times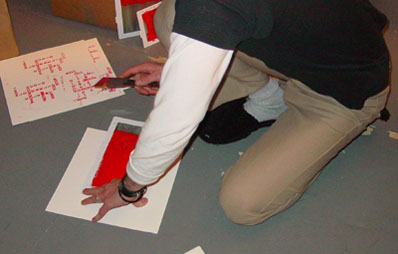 This is what we mean by hand screened.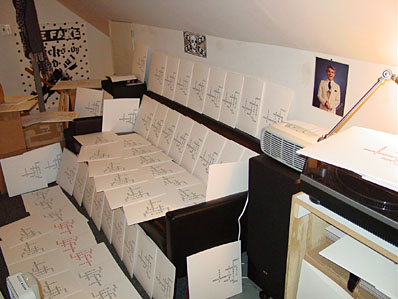 Steve Martin oversees the record drying process.