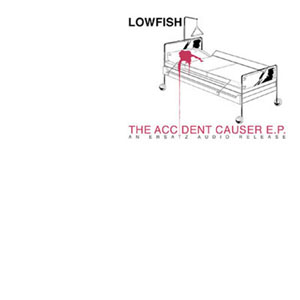 LOWFISH
the accident causer 12" EP
A1: DOMINATION ver.2
A2: THE ACCIDENT CAUSER
B1: DARK MATTER ver.1
B2: TOLEX ver.2
Written & Produced by Gregory De Rocher.
Lowfish appears c/o Suction Records, Canada.
©2002 ERSATZ AUDIO.
RELEASE DATE: APRIL 9, 2002 (EZ-018)
Lowfish is relentless.

Continuous beats and pulses nervously persist, bouncing on the surface, while driving arpeggios and lush electronic melodies sink in. A master at structure, Lowfish keeps the compulsory head nodding consistent through his work, while scientifically degenerating from any sense of unnecessary repetition.

Lowfish is Gregory De Rocher, co-owner of Toronto's Suction Records. With 2 full length releases on Suction Records -"Fear Not the Snow and Other Lo-Fiing Objects" (1999) & "Eliminator" (2000), Lowfish has helped shape the sound, along with Solvent (Suction's other co-owner), that has become unmistakably Suction Records. Suction Records was a welcome anomaly in 1997 with their first non-genre specific split 12" featuring Lowfish and Solvent . He has also recorded for Morr Music, City Centre Offices, A.D.S.R., Ghostly International, Awkward Silence, and others, as well as remixing Goem, David Kristian, Solvent, and more.

Lowfish states that his influences come from "dodgy 70s modular music, to 80s new wave and industrial, through to various strains of 90s weird electronics." For over a decade, Lowfish has witnessed trends in electronic music come and go, and has developed a thorough appreciation for electronic sounds and melodies that are warm, memorable and timeless.

Here with "The Accident Causer" ep, Lowfish delivers 4 new exclusive songs, specifically written for Ersatz Audio. Deviating enough from his signature sound, while still maintaining his sensibilities that are unmistakably Lowfish, this ep fits perfectly in the Ersatz Audio lexicon, from "Dark Matter's" dance floor devastating bassline arpeggio to "Domination's" impeccably tasteful vocoder line (the first vocoder line to rival Skinny Puppy's masterpiece of vocoder work on "Warlock").

Be prepared to be pulverized by exactness.
"Highly recommended release." -URB
"Miss this at your peril." -BoomKat

Alternate Sticker.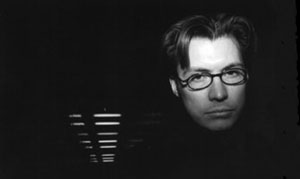 LOWFISH: aka Gregory de Rocher.