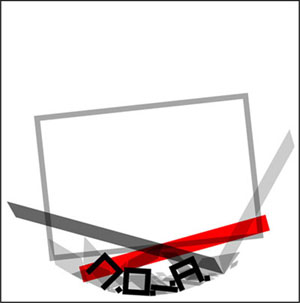 N.O.I.A.
unreleased classics '78-'82 CD & 2x12" vinyl
CD TRACK LISTING
01: ATOMKRAFT
02: KOROWA MILK BAR
03: BE ALERT*
04: NO MISTAKES
05: NAGASAKI FORCED FUN 1945
06: STOP THINKING
07: WEST IS THE BEST
08: HUNGER IN THE EAST
09: CHANGE FASTER
10: WE WANNA GLOW
*CD Bonus Track
2x12" PLAYLIST
A1: ATOMKRAFT
A2: KOROWA MILK BAR
A3: NAGASAKI FORCED FUN 1945
B1: STOP THINKING
B2: NO MISTAKES
C1: HUNGER IN THE EAST
C2: WEST IS THE BEST
D1: CHANGE FASTER
D2: WE WANNA GLOW
Music & lyrics by N.O.I.A.
©2003 ERSATZ AUDIO.

www.electronicimage.it

RELEASE DATE: FEB. 18, 2003 (EZCD-23/EZ-023)
Once in a lifetime, a record label is allowed that rare opportunity to release a record that it never thought it would have had the chance to. A record from a time period that has inspired the label greatly, but a record that was never released. That chance is here. It is with great pride that Ersatz Audio is able to announce the release of the "unreleased classics" of Italy's synth-pop masters N.O.I.A. 10 songs, written between 1978 and 1982, somehow never released before now. Timeless classics that could have been released when they were written 20 years ago, now or 20 years from now, without ever sounding out of place. Here is a brief history of N.O.I.A.

N.O.I.A. began as a 5-member band in 1978. In 1980, N.O.I.A. won the first Italian rock festival, and EMI released a compilation including 2 early N.O.I.A. songs. In 1983, N.O.I.A. member Davide Piatto composed the dance classic "Dirty Talk" sung by Rossana Casale. The song is released under the name Klein & MBO and it reaches the top of the charts all over the world. N.O.I.A.'s career began in 1983 as well, when they signed to Italian Records and became a studio group, now consisting of 3 members. During 1985, N.O.I.A. released 5 singles and the mini LP "The Sound of Love" which were all successful in the European dance market. Things slow down for N.O.I.A. in the 90's.

In 2000, N.O.I.A. go back into the studio to faithfully re-record exactly their earliest songs (minus the tape warble found in the original recordings). It is here that N.O.I.A. and Ersatz Audio meet, and agree to release these "unreleased classics." We here at Ersatz Audio would like to thank N.O.I.A. for the opportunity to release their latest (and yet oldest) album "UNRELEASED" -10 songs available for the first time on CD and Double 12". Ersatz Audio's 2000 compilation title and slogan is appropriate once again, "The Forgotten Sounds of Tomorrow."
"Ersatz have struck gold and are about to share this musical nugget with the rest of us. As relevant today as it was two decades ago, and will be two decades from now." -Vice
"...given the chance they could have rivalled both The Human League and Heaven 17." -Logo
"...mind-blowingly fantastic, really ridiculously enjoyable."
-Pitchfork
"...an album of 20-year-old songs that was recorded in the year 2000 and sounds like it was recorded yesterday, today and tomorrow all at once. With a great title. Is there anything else that you were after?" -No Ripcord