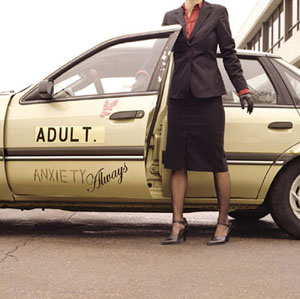 ADULT.
anxiety always CD & 2x12" vinyl
CD TRACK LISTING
01: THE COLD CALL*
02: SHAKE YOUR HEAD
03: GLUE YOUR EYELIDS TOGETHER
04: BLANK-EYED, NOSE BLEED
05: TURN YOUR BACK
06: PEOPLE, YOU CAN CONFUSE
07: NOTHING OF THE KIND
08: NERVOUS (WRECK)
09: WE KNOW HOW TO HAVE FUN
10: KICK IN THE SHIN
* CD Bonus Track
2x12" PLAYLIST
A1: GLUE YOUR EYELIDS TOGETHER
A2: BLANK-EYED, NOSE BLEED
A3: NERVOUS (WRECK)
B1: PEOPLE, YOU CAN CONFUSE
B2: WE KNOW HOW TO HAVE FUN
C1: SHAKE YOUR HEAD
C2: TURN YOUR BACK
C3: NOTHING OF THE KIND
D1: KICK IN THE SHIN
D2: FOOT-IN-MOUTH DISEASE*
* DP Bonus Track
Music & lyrics by N.Kuperus & A.Miller.
©1995 ERSATZ AUDIO. Published by Ersatz Music, ASCAP.
www.adultperiod.com

RELEASE DATE: APRIL 8, 2003 (EZ-026/EZCD-26)
Anxiety Rules! The new album "Anxiety Always" from Detroit's premier paranoids ADULT. is here. Is this their first album, or their second? Well, that depends on if you think that their last long player "Resuscitation" was an album or a collection of singles. Frankly, we can't decide, and we really don't care! What is important is that the new ADULT. album "Anxiety Always" is ready for release. 10 hard-hitting new songs about the times we live in, and how the more things change, the more things stay the same. Songs laced with sardonic humor, about the ironic details of relationships, the apprehension of public life, and songs about nothing - literally - about nothingness!
ADULT. features married-manics Nicola Kuperus and Adam Lee Miller. While not working on ADULT., they also run the Ersatz Audio label, that releases most of their music. They have remixed over 23 artists including Tuxedomoon, Bobby Conn and The Faint. Kuperus has also lent her unique vocal styling to bands such as Chicks on Speed, Swayzak and a recent collaboration with Death in Vegas that reached #19 on the British Singles Charts. Miller recently finished up lending his production skills to Magas on his new album "Friends Forever" on Ersatz Audio.
A lot has happened since ADULT.'s last LP "Resuscitation", and this new album proves it. Saturated with assured tension and nonchalant panic, "Anxiety Always" is dance punk music for the mutants.
The single for "Anxiety Always" was released exclusively on Clone Records.

The "Anxiety Always" CD has been licensed exclusively in Australia to Spunk!