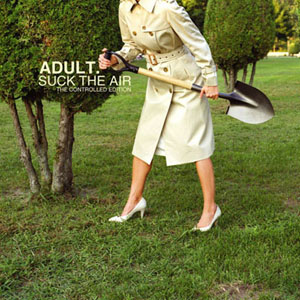 ADULT.
the controlled edition 7" single
A1: SUCK THE AIR
B1: HIGH HEELS ON TILE FLOORS
Music & lyrics by N.Kuperus & A.Miller.
©2003 ERSATZ AUDIO. Published by Ersatz Music, ASCAP.
RELEASE DATE: JUNE 3, 2003 (EZ-027)
This limited edition 7" features 2 new tracks from ADULT. Side A features the hard hitting "Suck the Air". A most fitting song for a 7", complete with low frequency bass guitar, dichotomous lyrics delivered with urgency, cymbal hits and more. ADULT. turn up the heat.

Side B features the instrumental concept song "High Heels on Tile Floors". Originally recorded as 2 separate 3:30 minute versions; one arranged by N. Kuperus and one arranged by A. Miller. The 2 versions were then combined into one version, beginning with A. Miller's arrangement, and then seamlessly transferring into N. Kuperus' arrangement. The video still on the 7" jacket is the source material for the audio sample in the song of N. Kuperus running in "High Heels on Tile Floors".
This 7" is strongly limited to 2,000 copies, all hand-numbered. The first 1,000 are on clear vinyl with white labels. The second 1,000 are black vinyl with black labels.
This 7" was first sold on ADULT.'s North America 2003 "Anxiety Always" Tour between April 22 and May 17, with the remaining copies to be sold via Ersatz Audio's distribution networks on June 3. THIS ITEM IS OUT OF PRINT.
"As with the punk aesthetic and the waves of electronic music that superseded it, this is music to strangle hippies to and it's all the better for it." -No Ripcord
"Even in the current re-cycle of post-punk bands, there is no one doing anything quite the same as Adult." -Dusted Magazine