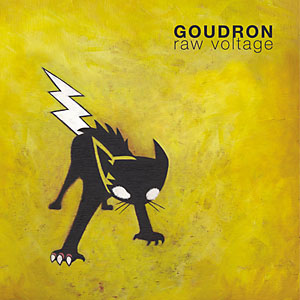 GOUDRON
raw voltage CD
01: ART SCHOOL FUCKHEADS
02: CIVIL SYMMETRY
03: SCALLIWAGZ
04: RUMBLE QUEEN
05: MACHINA MUNDI
06: ODYSSEY LOVE
07: THE DREGGS
08: RUN
09: FRONTLINE
10: GRAND RIVER ver.1
11: TIRED
Written & Produced by Ron Zakrin.
Recorded at the Beehive, Detroit.
©2004 ERSATZ AUDIO.

Booking inquiries for GOUDRON should be made directly to the artist at rzakrin@yahoo.com

RELEASE DATE: MAY 18, 2004 (EZCD-30)
The music on "Raw Voltage" is electronic, warm and full of momentum. Goudron is a modern craftsman of synthesis, structure and song. His music seems choreographed to a film, breaking down, starting up, fluctuating and adhering to rules that make his music sound like no other. His unique 'sound' comes in part from the fact that he modifies a lot of his gear himself; it also comes in part from the fact that he knows his machines inside and out. Watching him live, he masterfully manipulates analog synths without schematics - an amazing skill to those that truly know vintage analog gear.

Goudron is Detroit artist and musician Ron Zakrin. "Raw Voltage" is Goudron's first full length album after his two previously successful 12" releases on Ersatz Audio. 5 of the songs here on this CD were previously released on 12" vinyl releases on Ersatz Audio entitled "Horses & Chariots" and "Civil Symmetry". And like his previous 2 releases, this album also features the artwork of Mr. Zakrin.

"Raw Voltage" spans over two years worth of song writing, this album is a selection of the best of the best. Over 30 songs were compiled together to bring you this extraordinary 11 song album. Beginning with the confrontational "Art School Fuckheads" and ending with the beautifully somber "Tired", "Raw Voltage" undulates like an unforgiving tidal wave. "Raw Voltage" seamlessly flows between instrumental and vocal songs as well, because Goudron's instrumentals sound as thought the synths are speaking. The title itself "Raw Voltage" reflects the albums continual percussive push, its buzzing analog synths and of course it's part homage to another Detroit musical legend...

Goudron delivers an album of massive emotional depth, exciting mood swings and continual drive, creating a record that grows on the listener with every passing song.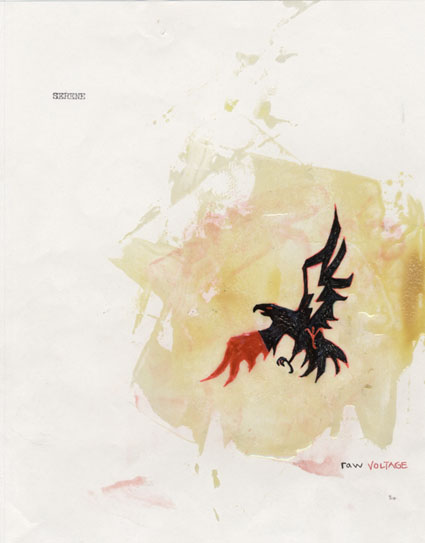 ORIGINAL CONCEPT FOR RAW VOLTAGE BY R. ZAKRIN.