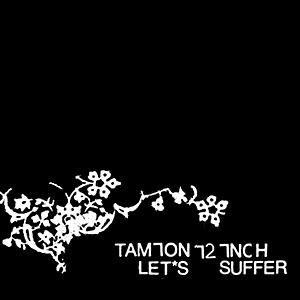 TAMION 12 INCH
let's suffer CD / LP
CD TRACK LISTING
01: THE DEVIL WAS RIGHT PT.1
02: THE DEVIL WAS RIGHT PT.2
03: PHONE IN FALL
04: A HEART FOR CREEPS
05: S.K.U.T.Z.
06: PEOPLE CALL THE DEAD
07: APOSTROPHE*S
08: SOMEBODY ELSE'S MINE
09: BONES/TEETH
10: SISTERS
11: DECEMBER
12: MIX MIX MIX

LP PLAYLIST
A1: THE DEVIL WAS RIGHT PT.1
A2: THE DEVIL WAS RIGHT PT.1
A3: PHONE IN FALL
A4: A HEART FOR CREEPS
A5: S.K.U.T.Z.
A6: PEOPLE CALL THE DEAD
B1: APOSTROPHE' S
B2: SOMEBODY ELSE'S MINE
B3: BONES/TEETH
B4: SISTERS
B5: DECEMBER
B6: MIX MIX MIX

Words & Music by Tamion 12 Inch.
Tamion 12 Inch: B.Kerry, C.Samuel, K.Mike.
©2004 ERSATZ AUDIO.

TO TRY AND BOOK THIS ARTIST, PLEASE CONTACT
TAMION12INCH@YAHOO.COM

RELEASE DATE: MAY 18, 2004 (EZCD-31/EZ-031)
The sequel to disaster. The soundtrack to suffering. Let's suffer is the debut long player from Tamion 12 Inch. If you've been paying attention to Tamion 12 Inch over the last few years, either through their E.P. and compilation tracks or their live performances (with the likes of Adult., The Fall, Black Dice and the 2003 Detroit Movement Festival) you'll notice how intensely focused this record is. First you'll notice the de-emphasizing of dance, pop and/or punk forms. Then you notice the residual emotion, mounting the scraps of structure. Then maybe you'll notice the humor.., but maybe you won't.

The band themselves have described the sound as "a box inside a box inside a box inside a riddle et. nauseum al cetera GO!" What it is, is a miscellany of corrugated noises, disfigured ballads and psychic pop. Nursery chants from the petrified playground littered with bones and teeth. To confuse matters worse, were told it's a manifesto of a new lifestyle as musical genre "Don't Wave". Best ask them what all this means.

Produced by Dion Fischer (Gozuki, The Go, Wolfman Band) and Samuel Consiglio, at Brown Rice studio with Warn Defever (His Name Is Alive). They've captured the raw intensity of their live performance and the intimacy of every cobweb and cracked rib.

Songs about the inevitable, the elderly, the ordinary, sovereignty, and the 19 thousandth nervous breakdown. Songs about how Tamion 12 Inch is the only band in the Motor City where no member has a working car. Songs about the deformed dance club people who need you to know that they need to be alone. Songs about winter and pleasure and perfection and rejection. Y'know, songs about you.

The vinyl version of this album comes in a special hand-stamped jacket.



PHOTOS