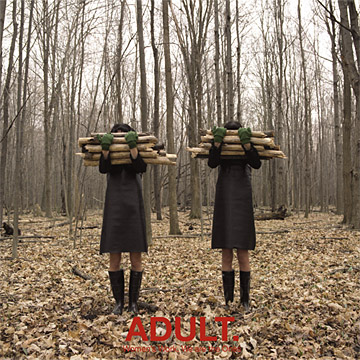 ADULT.
DECAMPMENT: PART 3 Limited Edition 7"
SIDE 1: WOMEN'S WORK
SIDE 2: WE ARE THE ONES
©2008 ERSATZ AUDIO

RELEASE DATE: JULY 13, 2008 (EZ-036)
First off, it is a strictly limited 7" series -NOT a CD release- and thus the songs will NOT be released on CD or be available for download purchase. Each of the 3 different 7"s will be limited to 100 copies and each one will be hand numbered. One will be released each month starting May 13 (the other release dates being June 13th and July 13).
Secondly, each 7" will come with an authentic 16"x20" color photograph signed and numbered by Nicola Kuperus that is limited to 100 as well. Purchasing the entire TRILOGY will create a large work of art intended to be displayed as a Triptych, or each print can be displayed on its own. There are no rules!
And finally, the concept of THE DECAMPMENT TRILOGY...
Through 9 photographs (the 6 photos that make up the front and back of the 3 full color 7" jackets and the 3 large 16"x20" photographs) and the 6 (new) songs, ADULT. tell the "story" of DECAMPMENT through still images, music and lyrics. And what is the DECAMPMENT story? It is the new 40 minute experiment-horror film from ADULT. that can only be experienced live or through this 7" series.
The 7" series can only be purchased through ersatzaudio.com. This offer will not be available through any store.
In a throw-away world of excess and "shareware", finally something truly unique, hand-crafted and limited.

More info about ADULT. can be found at adultperiod.com
---
The 7" with the 16" x 20" photograph by Nicola Kuperus.