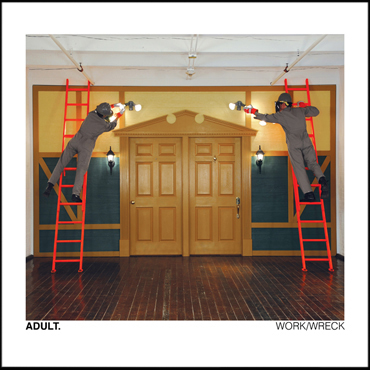 ADULT.
WORK/WRECK 12" EP

1: WORK
2: WRECK

©2013 ERSATZ AUDIO. Published by Ersatz Publishing, ASCAP.
RELEASE DATE: Sept. 12, 2013 (EZ-038)

This is the first release on Ersatz Audio since 2008. This 12" release documents an installation the duo created at the Mattress Factory during the summer of 2013.Kuperus & Miller are part of an exhibition "Detroit: Artists in Residence" ongoing through May 2014. In keeping with the Detroit theme, the record has been limited to 313 hand numbered and signed copies. 313 is the area code for Detroit. Each song is 13:13 in length, once again repeating the 1-313 area code motif. Both instrumental songs are taken from the sound components in their multidisciplinary installation "Diptyching" and the cover art (front and back) document the physical and performative elements of the piece.

This 12" was made in conjunction with the Mattress Factory and is available through their museum shop and our online site.