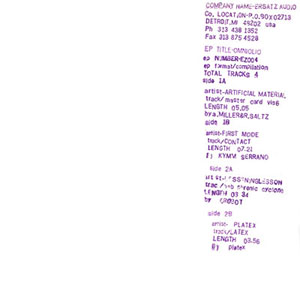 VARIOUS ARTISTS
omni-olio 12" EP

A1: ARTIFICIAL MATERIAL MASTER CARD VIS6
Music by A. Miller & R. Saltz.
A2: FIRST MODE CONTACT
Music by Kymm Serrano.
B1: LESSENINGLESSON HEBEPHRENIC CYCLONE
Music by I, Robot.
B2: PLATEX LATEX
Music by BMG & I, Robot.
©1996 ERSATZ AUDIO.
RELEASE DATE: MARCH 1996 (EZ-004)
OMNI-OLIO is Ersatz Audio's first compilation. With Omni meaning "all" and Olio meaning "a collection of musical works", the title loosely translates into "a collection of all the artists on Ersatz Audio up to this point". Includes a bonus track by PLATEX featuring BMG (of ectomorph / Interdimensional Transmissions) and I. Robot (of Lesseninglesson / Le CAR / Perspects). This 12" is out of print.
"I have a sneaking suspicion that Detroit based Ersatz Audio takes great pride in the fact that this represents a most un-313 effort. Tone dialing, malfunctioning Cylons and science fiction strings aside, the artists representing on the Omniolio operate in an unusual array of electronic programming with nifty synth pop hooks or meditative trails into darker regions of eerie ambient bubble production. It's all good." -URB