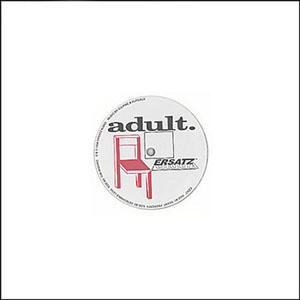 ADULT.
dispassionate furniture 12" EP
A1: DISPASSIONATE FURNITURE (I'm sitting in...)
A2: A LACK OF COMFORT
B1: SILENT PROPERTY
B2: DETACHABLE LEGS
B3: THE MISSING
Music & lyrics by N.Kuperus & A.Miller.
©1998 ERSATZ AUDIO. Published by Ersatz Music, ASCAP.

RELEASE DATE: NOV. 1998 (EZ-007)
The debut 12" single from ADULT. "Dispassionate Furniture ep" on Ersatz Audio contains 5 original tracks, each one dedicated to the estranged relationships that develops between furniture and their masters. The moveables in our homes that we walk by each day not noticing, until they refuse to be ignored. The lyrics tell the tales of ergonomically inhumane encounters, while the music pushes us to the limits of synthetics. Electronic sounds that prepare us for our nonstop imminent encounters with dispassionate furniture. So please, sit back in your most uncomfortable chair and prepare to hear the forgotten sounds of the future - our obsession with tomorrow. This 12" is out of print.
"...quality electronic music (in this case quality electro). Designed with retro futuristic styling, simple well crafted beats and melodies, this is simply well made music. These are synthesized grooves that are sure to shake your pooter. My furniture and I give this an enthusiastic 9 out of 10." -EXP 'zine
"The aesthetic of synthetic. The end result is yet another Detroit classic straight from the future." -D'VOX
"Very strong and tight ep!" -Forcefield
"One of the best electro releases of 1998." -Dissonance
"...Electro-shocked robozombie death marches straight out of Night of the Living Dead," -The Wire
"This one reminds me of Allen Jones's fetishistic S/M mannequin furniture of the late 60's; with scantily-clad female figures as a table, hat stand and chair. Sparse electro sound, where living bodies turn to lifeless objects - and vice versa. Pleasure music for the pleasure objects of a totalitarian state." -pHinnWeb