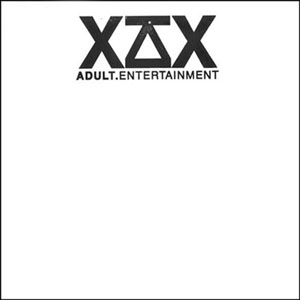 ADULT.
entertainment 12" EP
A1: PRESSURE SUIT
A2: HUMAN WRECK
B1: XZzX
B2: THE PLEASURE PASSENGER
Music & lyrics by N.Kuperus & A.Miller.
©1999 ERSATZ AUDIO. Published by Ersatz Music, ASCAP.
RELEASE DATE: NOV. 1999 (EZ-009)
ADULT. have finally accepted their role as entertainers with 4 dynamic and potent songs that they themselves describe as "popular music for dancing." ADULT. leaves behind obvious elements of the past for greater uncertainty and movement, layering themselves with multiple and opposing intentions. ADULT. delivers a full and enigmatic range of musical works to satisfy this mortal need for new and exciting entertainment. This 12" is out of print.
"Entertainment is full of baffling, hyperkinetic rhythms that confuse - like disco mixed with punk mixed with acid mixed with Devo mixed with fuck you too, asshole. Nicola Kuperus's renderings of new romantic fashion-fag megalomania are beyond art, full of sneeringest attitude and both righteous and grotesque. [It] all demands a rather large amount of respect (the kind mixed with fear, guilt, and self-abnegation)." -Urban Sounds
"[It's] got that fuck-you attitude that's so rare in electronic music." -The Wire
"This release features Adult.'s strongest track so far, "Pressure Suit", with insistent vocals by Nicola Kuperus, which should be at least as big of an underground hit as I-F's "Space Invaders..." -Prospective Magazine
"...Flying Lizards-meets-Kraftwerk... Twisted but tight, these robots are too fucked-up to be funky, which is probably why this is so damn good." -Mixer
"...Adult. continue to both ignore, and redefine, the boundaries of electro, ...Adult. stands as one of the most innovative projects in current electro." -Grooves