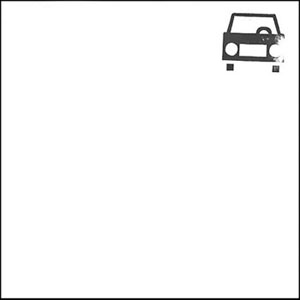 Le CAR
auto-fuel 12" vinyl
A1: AUDIOFILEEIGHT
A2: AUDIOFILESEVEN
A3: SEVENPOINTFIVE
A4: AUDIOFILENINE
B1: AUDIOFILE 10
B2: 10POINTFIVE
B3: AUDIOFILEFIVE
Music by Jack Vulpine & I,Robot.
©1996 MONOPLAZA RECORD CO. / ERSATZ AUDIO.

RELEASE DATE: SEPT. 1996 (MZ-001)
The first EP from Detroit's Le CAR on the brand new Ersatz Audio sublabel Monoplaza Record Co. Seven new songs meant for dancing. The new 1996 Le CAR model offers manual windows, no AC, a pre-stolen AM/FM radio and plenty of rust. Like Detroit, Le CAR comes AS IS, with nothing to hide and no guarantees. If you're looking for a lift, get on in and prepare for the ride. Buckle up!

"Le Car's music comes from the gut, it is intelligently produced Electro with just a hint of synth-pop. Not only the name but their personal style is reminiscent of the '80s, and their music is something for the future. This is music that obviously comes from two people who are in tune with the city's rhythms and are capable of reproducing the unique feeling Detroit seems to emanate."
-Massive Magazine
"Back to Detroit, delivering the deepest electro cuts around."
-Forcefield